LOOKER BIRD FEEDERS
All Looker Bird Feeders listed below are sold from affiliates with us, in order to give you a better selection all in one place.  The item or items you choose to purchase may or may not have free shipping prices and may have different shipping times than World of Birdhouses.  The prices below do not include shipping prices, if any shipping prices need to be applied.  When purchasing any of the products listed below, you will be purchasing your item directly from the website you are directed to.  To get directed to the proper place and to get more information on the product, shipping prices, shipping times, purchasing and contact info, just click on the name of the item.  By clicking on the item name, it  will direct you outside of World of Birdhouses website. Our Privacy Policy, Refund Policy, Terms of Service and Free Shipping do not apply.  Instead the site you are directed to, their Privacy Policy, Refund or Guarantee Policy and Terms of Service will apply.  We are still here to help, if you have any questions or concerns. You can email us at worldofbirdhouses@gmail.com or contact us by phone at 403-369-6819.
LOOKER ORIOLE BUFFER BIRD FEEDER
Glass cup for grape jelly or mealworms
Dowels to place oranges or other fruit.
12" x 3.5" x 11"
Birds who enjoy fruit or mealworms will be attracted to this feeder!!
$24.43
LOOKER CRYSTAL CLEAR BIRD FEEDER
Clear cover helps protect the seed from the elements
The tray is able to hold 4 cups of seed or mealworms.
Drainage holes in the tray to help water drainage.
Made in the USA
$24.69
LOOKER TAIL PROP SUET BIRD FEEDER
Hanging suet feeder
Has coated steel cable for hanging feeder
Able to accommodate larger birds
Made from Western Red Cedar and has poweder coated metal mats.
Made in the USA.
2"W x 8"L x 11"H
$20.70
LOOKER Bf13 BLUEBIRD CHICKADEE BIRD FEEDER
Has 1 9/16" holes at each end of the bird feeder  to allow access inside the feeder
Vinyl coated steel cable to hang the feeder with
Made from Western Red Cedar and Acrylic Glass
Made in the USA
9"W x 12"L x 8"H
Can fill the bird feeder from the top by adjusting the roof out of the way 
$31.83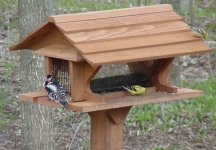 The roof is able to pivot out of the way while filling the feeder with bird seed
Suet or peanuts can be placed on each end of the feeder.  Holds 2.5 gallons of seed.
$82.81
LOOKER WF-3 WINDOW HOPPER BIRD FEEDER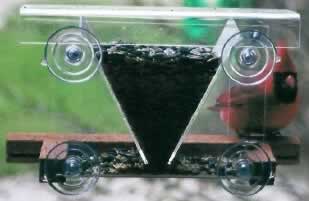 This picture is showing how the hopper is situated on this feeder when it is up against your window.  The roof on this feeder pivots out of the way when filling the feeder.  Holds 3 cups of seed.    $22.84
LOOKER Tf03 12 X 12 HANGING TRAY FEEDER

The frame is made from Red Cedar frame and a polypropylene mesh tray.  Made in the USA. $23.38 
LOOKER Bf16 THISTLE BAG ROOF BIRD FEEDER (ROOF ONLY)
This is an roof attachment that you can place on your already bag feeder.  $11.98
The feeder is hung by a vinyl coated stainless steel cable
Roof slides up the cable when you need to fill the feeder with bird seed.
Can hold 2.5 qt. of bird seed
14"L x 9"W x 11"H
$37.98
LOOKER Wp01-G Wf MINI BIRD FEEDER
A mini hanging window feeder that can be easily attached to your window with the two strong suction cups.
The feeder is able to hold one cup of seed.
Made in the USA.
4"W x 6"L x 5"H
$15.69
The feeder has four sides with an octagon shaped base.
The roof is hinged and the hopper is removable for cleaning and refilling.
This bird feeder can hold 5lbs of seed.
15.5" x 15.5" x 17"
$66.66
LOOKER WF-OPEN DINER WINDOW BIRD FEEDER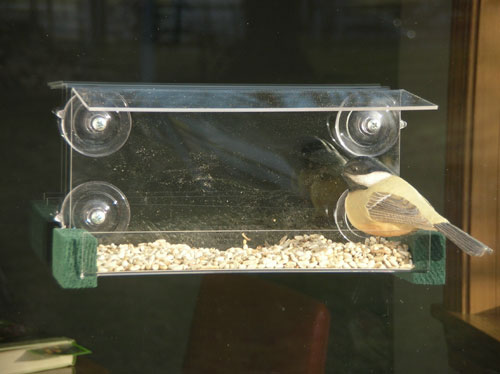 This window bird feeder can hold 2.5 cups of bird seed
Great way to get a close up of watching birds from inside of your home
Held to your window with four suction cups
$18.84
DON'T SEE ANYTHING YOU LIKE. SCROLL BACK UP TO THE TOP AND CLICK ON BIRD FEEDERS, TO SEE OUR IN STORE 10 CATEGORY SELECTION.  WE ARE A NEW STORE ADDING NEW PRODUCTS EVERYDAY.